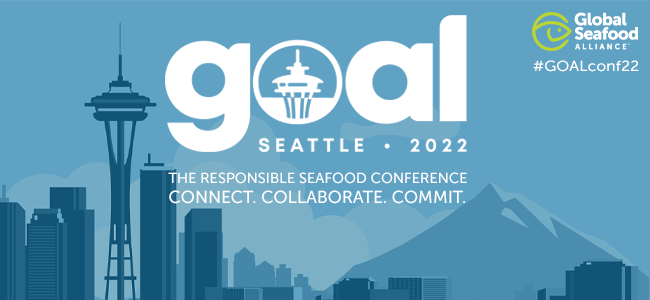 In-Person GOAL Returns to Seattle!
The 21st edition of the Global Seafood Alliance's signature event, GOAL: The Responsible Seafood Conference, will be held at the Fairmont Olympic Hotel in Seattle, USA, from Oct. 3 to 6, 2022. Though the event has grown from less than 100 attendees in 2001 to upward of 500 today, the mission remains the same — to provide a pre-competitive space for seafood thought leaders to put day-to-day business aside to learn, network and socialize.
Register for GOAL 2022 now to secure your spot at the conference. Availability is limited; the event is expected to sell out. Upon registering, you will receive an email confirmation with a hyperlink to the Fairmont's room-booking webpage, with access to the discounted rate of $290 per night.
GSA corporate and individual members receive discounts on GOAL registration. Not a member? Sign up here.
Register for GOAL 2022
If you are registering on a person's behalf, please fill out the form for that person and each subsequent person should you be registering more than one person
*Required Field